why did you choose to work with her international?
We heard of Her International (then IWEN) through a customer of ours back in 2013. She lives in Kelowna and was telling us about her friend who was sponsoring a girl to go to school in Nepal - she thought that since we had this unusual fact in common, that it might be nice for us to chat about the related ups, downs, emotions and etiquette. She put us in touch with her friend, a person who sponsors a girl through IWEN. Through this connection, we learned about IWEN and its work in the Dang region of Nepal.
What we learned was interesting enough that when we next travelled to Nepal in 2014, we arranged to meet with IWEN's founder Michelle Bonneau and Creating Possibilities' director Dinesh at their headquarters in Kathmandu. Back then, we quizzed Michelle and Dinesh about many aspects of their work and also discussed some of the ethical or moral challenges we'd been feeling about sponsoring Nepali children to attend private schools while their neighbours or other family members did not receive the same benefit. We also talked about having children potentially leave their home community to attend private school. We had excellent conversations and we put all the information into our back pockets for future use, since we knew we would eventually raise enough funds to sponsor an additional child or children.
Fast forward to the summer of 2017, and thanks to our numerous and generous customers, we had secured funding for the lifetime educations of 3 children we had personally sponsored since 2012. But, we still had a lot of inventory we could sell and we still had 100s of customers asking to purchase our products: we needed to find a meaningful and legitimate destination for any profits we earned through continuing our jacket sales.
This is when we reached out to Her, to enquire more about the child-sponsoring programs. It sounded like a perfect fit and even an improvement over our existing model: sponsoring the lifetime educations of girls, to attend school in their own home community, with support for their mothers from locals on the ground in Nepal. Our ability to pass along our profits each time we knew that we had enough to sponsor another girl for the duration of her education was a relief to us: we could concentrate on manufacturing and sales; Her International could focus on what they do best which is looking after the girls' educations.
HOW HAS IT IMPACTED YOUR EMPLOYEES?
We don't actually have any employees: Jackets for Jasper is run by just the two of us from our home. For us, however, our partnership has meant a great deal. We feel very confident that our hard-earned profits are going to a destination fully in line with our values and Jackets for Jasper's original intention. Also, we know that the demands on us personally to oversee and troubleshoot and pay for children's educations in Nepal from our North Vancouver kitchen (difficult at the best of times with language barriers, 12 -13 hours time difference and cultural differences) would be things that would be handled smoothly by Her International for any new children that are sponsored through our partnership. This is a tremendous relief to us, as this communications and coordination work is very exhausting and trying at times.
In Nepal, we do not have any employees. However, we have only 1 manufacturer that we work with exclusively. We have created and fostered an excellent relationship with him and his family and his small group of 4-7 tailors. Our partnership with Her International (along with our changing our business model) have enabled us to continue providing work to this industrious and talented group of men. Without the partnership with Her International and our switch to a Made-to-Order model, we would have had to throw in the towel at the end of last season as the workload had become unsustainable for us.
what effects have you seen it have on your customers?
We know that our ability to sponsor additional children has been a huge hit with our customers. We are proud to tell them upon purchase of their jacket that each one funds approximately 1 month of a girl's education through Her International's Empowerment through Education program. Our customers love that fact and they share it proudly and widely with their friends, families and new acquaintances.
The partnership is still pretty new, but the best thing we have experienced so far was attending Her International's AGM. It allowed us to learn much much more about all of the far-away and local initiatives under way and just how far-reaching the organization's efforts are. It also allowed us insight into the personalities of the people who make Her International happen: without exception, we were moved by the actions and words of the people who pour their hearts and souls into the projects they so believe in. It was a great way to start off our new partnership!
do you have an experience you would like to share?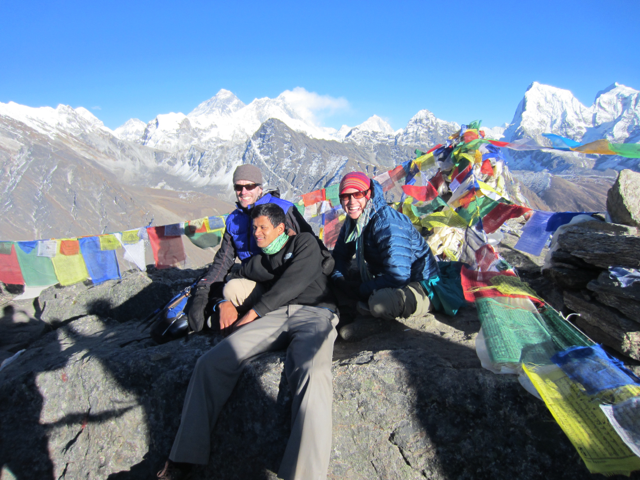 1. The three kids we sponsored, photo credit Kamal Adhikari (2016)
2. The photo in the North Shore News that started it all - photo credit "North Shore News"
3. Rajan, our manufacturer, with a jacket at the cutting table in the factory.
4. A photo of us long before J4J started, while on a trek in Everest region with to-become-Jasper's-dad Kamal (Nov 2011)
5. Len and Liz when we first sponsored Resmi - with Kamal, her uncle - in Kathmandu Dec 2011 - photo credit, Elizabeth Leboe or Lenard Reid